Dr. Powell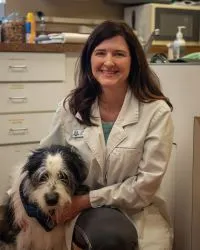 Dr. Jennifer Powell grew up here in southeast Boise and she is so happy to be able to live and practice in her hometown. After graduating from Washington State University College of Veterinary Medicine in 2004, she moved back to Boise and spent several years as a staff veterinarian at the Idaho Humane Society, gaining confidence in medical and surgical skills. She has been working at Companions since 2007. She purchased the practice from Dr. Dianne Soule in 2021. Her focus in practice is doing what she can to support the human-animal-bond and to enhance quality of life for her patients. She is a conscientious doctor who does her best to treat each animal like her own. She also feels lucky that her buddy Fletcher is able to come to work with her every day as the quasi-office dog. When she is not working, Dr. Powell enjoys reading a book with a kitty on her lap, working in the garden, watching movies while crafting, and spending time with her husband and her family.
Dr. Weiser
Dr. Therese C. Weiser has been an associate veterinarian at Companions Animal Hospital since February 1998. Prior to that she spent 17 years at another local small animal practice. Dr. Weiser was born and raised in the Chicago, Illinois area and attended undergraduate and veterinary school at Iowa State University ( Go Cyclones!). She received her DVM degree in May 1980. After graduation she and her husband Bill (married since 1978-WOW!) relocated to the Treasure Valley and settled in. She has a son, Matt, who owns and manages Turfsurfer Lawn Company. Her daughter Chrissy is a structural engineer working for a local firm, Call Engineering. She is also a very talented and accomplished horse woman in the Paint horse world. Dr. Weiser very much enjoys working with her feline and canine patients and their "parents". She provides general medicine, dentistry, surgical care and has a special interest in internal medicine. " It's the grateful licks and attention I receive from our patients that make my work so rewarding and enjoyable" says Dr. Weiser
Dr. Soule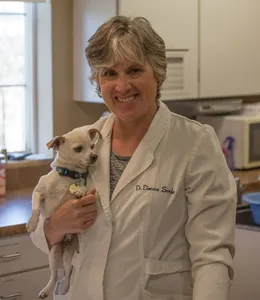 Dr. Soule grew up in Boise and attended Boise High School. She graduated from Washington State University School of Veterinary Medicine in 1985. She worked in Monterey, California for 6 years immediately after graduation. In Monterey, Dr. Soule worked as a small animal clinician and also worked part-time at the Monterey Bay Aquarium with the sea otters. She also had the opportunity to work with many specialists while in California which improved her diagnostic skills and taught her many advanced techniques and treatments. In 1990, Dr. Soule returned to her hometown of Boise.
Dr. Soule wanted to provide a warm, friendly, service-oriented hospital for pets and clients that reflected her love of animals and the bond between companion animals and their people. In December of 1994 Companions Animal Hospital opened its doors. Dr. Soule enjoys all aspects of veterinary medicine including internal medicine, surgery, dermatology and geriatric medicine. Veterinary medicine is changing so rapidly that Dr. Soule feels continuing education is vital to provide high quality care for pets.
In 2021, Dr. Soule sold the hospital to her longtime associate, Jennifer Powell. Dr. Powell will continue to provide the high quality of care to clients and patients that you've come to expect at Companions. Dr. Soule will continue to be a part-time employee at Companions and will be able to spend more time in her art studio, garden and mountain cabin with her husband and son.